CALLING ALL CHILDREN'S BOOK WRITERS & ILLUSTRATORS REGISTRATION IS NOW CLOSED.
Registration is now closed but will be reopening for our November course in September. To get first dibs, special offers, and so much more, click this link to join our community!

Whether you are a complete beginner or an experienced author or illustrator - Don't miss this unique opportunity.

Finally, bring that idea to life or finish that book you've been mulling over for years and join our MANY NOW PUBLISHED former students!
Do you have a great idea for a children's book?



Have you hit a wall?



Are you unsure about what to do next?

Perhaps you have a beautifully finished manuscript yet you can't seem to
get it in front of the right people. And the only feedback you've been getting are those sweetly worded but still pretty soul crushing rejection letters.

Don't worry - we've got you covered.

With our highly interactive eCourse & Talent search designed to fit any schedule.
Diversity & Low-Income Scholarship and Golden Ticket opportunities to submit to industry-leading editors and agents PLUS an instant access mini-conference.
And more information, support and guidance than you could ever imagine!
---
Gain first-hand knowledge from decades of experience. Dr. Mira Reisberg 'The Picture Book Whisperer', her esteemed co-teacher, Random House/Knopf editor Kelly Delaney, and colleagues are ready to teach you everything you need to know and more about the craft & business of writing children's picture books.


Who: The course is co-taught by two editors, one of whom is a former children's literary agent as well as an editor and art director, and the other is an acquiring major house editor along with fantastic contributions from editors, agents, and rock star authors. The course also features targeted video and written interviews with over 25 industry experts.
What: It's a 5-week online interactive e-course and talent search with everything you need to know about writing, selling and marketing children's picture books plus a bonus instant-access mini-conference week and an additional 6 months of exclusive access to materials.
Where: It all happens in the comfort of your own home, a café, the library, on vacation, anywhere that you can get Internet access with DAILY ACCESS to your instructors!
When: The next course starts January 7th, 2019 and runs for 5 glorious interactive weeks PLUS a bonus mini-conference week. The program is designed to be extremely time flexible... you can access the materials and interact as much or as little as you like. With recorded LIVE webinars, this proven-track record course is designed to accommodate students from all corners of this beautiful world.
How: Access daily lessons on our password protected website, with tons of resources including lists of publishers and agents, worksheets, writing templates, videos and interviews, and much more! Get your work critiqued in weekly topic-specific webinars. Interact via our private Facebook group where questions are answered and small critique groups are set up for those who want them.
Why: The most important aspect —you want to write and publish children's picture books. This is the only course with a phenomenal proven track-record of published, contracted, and now agented former students.

Including:


How to Build a Website
Great for authors & illustrators
Break The Rules
Teaching you the proper way to 'break the rules' with Ariel Richardson from Chronicle Books, yours truly - Dr. Mira Reisberg, and Miranda Paul
Bonus Videos
The Brilliant Barbara Bottner Bonus Interviews dig deeper into course materials
Social Media Tips & Tricks
Learn to setup your accounts & develop a social media following to help promote your books

Learn Photoshop
Receive half-off our amazing Adobe Photoshop course. We offer this at two levels: beginners (Part 1) and seasoned users (Part 2) in one low-cost course
Expert Writing Tips
FREE The Little Big Book of Children's Book Writing Techniques & Terminology
---
FYI unfortunately the early bird discount codes are now over but there's still fantastic value. Here's The Breakdown:

The Big Bonus Level

---
The Success Level with Kelly Delaney

---
The Success Level with Rachel Stein

---
The Success Level with Dr. Mira Reisberg

---
Registering for the Craft & Business of Writing Children's Picture Books is an incredibly useful investment in your career with a priceless return on this investment plus it comes with a money back guarantee that if you fully participate and do the work, if at the end of a year you don't feel that you learned a lot, we'll give you your money back!

---
Here's a bit about your instructors.




***Sadly, you can't register now and request a heavily discounted critique later after you hear how fabulous they are. If you can go the extra distance, do, but you'll need to act now as these sell out quickly, especially Mira's.
---
Then there are...

What's a Golden Ticket?


A Golden Ticket is when you get personal training on how to pitch and write a great bio and then get to directly pitch a select group of agents and editors and bypass the slush pile or closed house submission policy.
Here are our TEN 2019 Golden Ticket Talent Contest Submission Judges!!!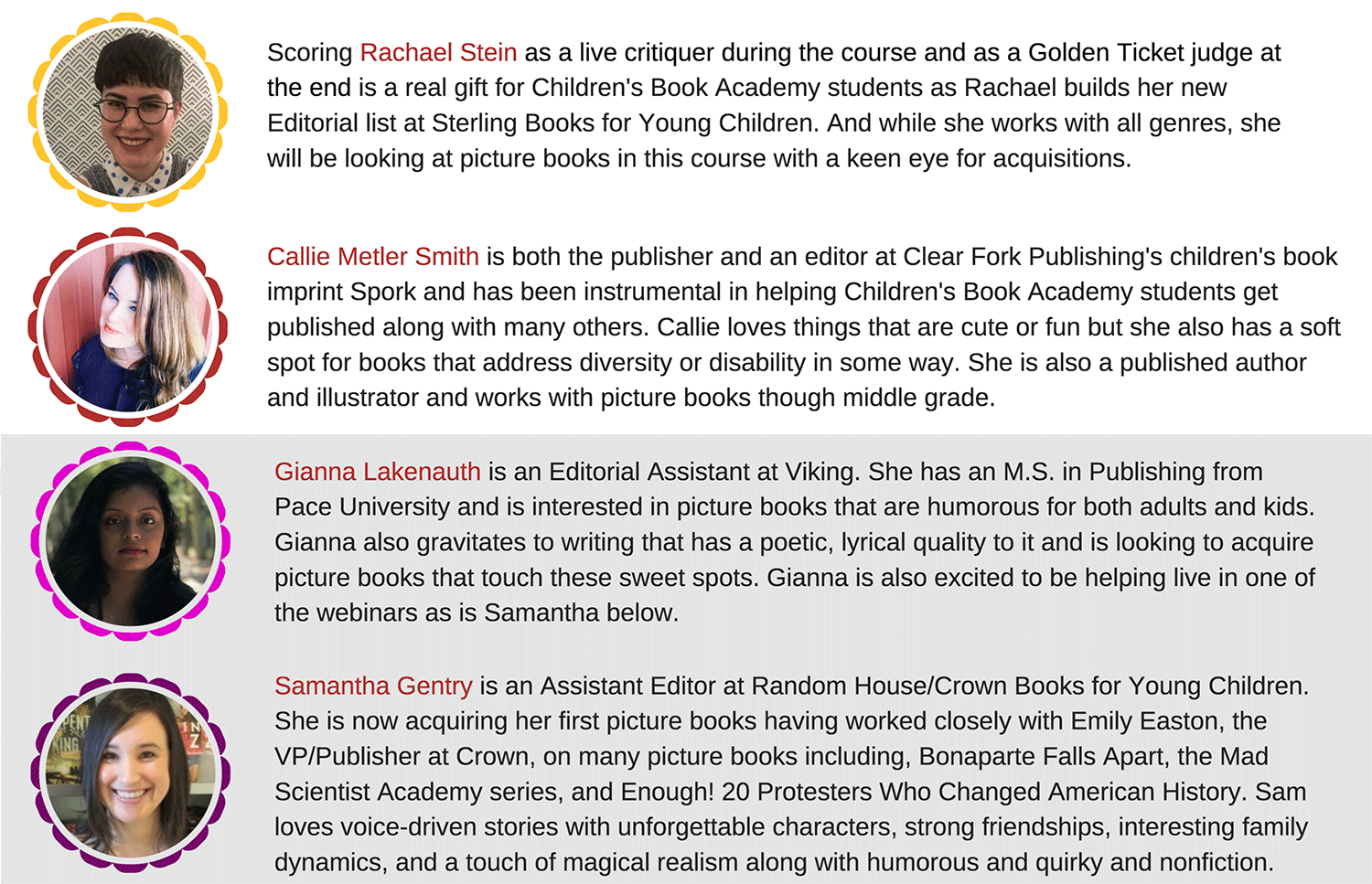 ---
And then there are the lives.....

To make things even more powerfully helpful we bring in some of the above editors and agents to work with you in weekly live and recorded topic specific webinars critiquing your work. Everyone is guaranteed at least one of these mini-crits during the course and learns from both their own and everyone else's critiques! PLUS We have success story students join us weekly in the live Facebook group.
Here Are Our 2019 Live Editor/Agent Mentors
• Week 1 - Sterling Editor Rachael Stein will be working with you on your initial concepts or hooks
• Week 2 - Viking Editorial Assistant Gianna Lakenauth will be advising on your characters or making your nonfiction compelling
• Week 3 - Random House/Crown Assistant Editor Samantha Gentry - will be helping with your main character's problems and obstacles. If writing nonfiction or a concept book, it's all about structure
• Week 4 - Bloomsbury Assistant Editor Kate Sederstrom will be working with you on your climaxes, satisfying endings, and possible twists
• Week 5 - It's our mystery agent who will be helping with pitches to sell your story and some of the bios

The Craft and Business of Writing Children's Picture Books Course Curriculum:
WEEK 1
• Kelly and Mira show and tell about hooks.
• Getting Started with a Shitty First Draft (Annie Lamott) or revising a less than perfect story. Crafting a Great Hook.
• 4 Sweet Steps to Edit for Brevity - or 4 tips to get that word count down. Tell me less - a violent story.
• Working with an Illustrator and the Physical Structure of a Picture Book
• Picture Books by Age and Concept
• Review and Interviews
• Webinar: Share 3 PB ideas or an existing hook or book description!!

WEEK 2
• Kelly and Mira show and tell about creating memorable characters.
• Underlying Truths and Universal Themes. Structuring Your Writing.
• Writing a Plot Driven Book.
• Anthropomorphism pros and cons.
• Mira and literary agent Sean McCarthy discuss plotting and pacing and emotional arcs.
• Concept Books. Developing Memorable Characters, Quirky Characters, and Delightful Stories
• Inspiration, Researching, and writing the New Non-Fiction and Biographies. Interviews.
• Webinar topic : Memorable characters or subject matter
WEEK 3
• Kelly and Mira show and tell about satisfying climaxes or big moments.
• Creating Luscious Language, Voice, Passive versus Active Voice.
• Poetry, Prose, and Rhyme. More on Concept Books. Mapping your Story with Inspiration Software.
• Postmodernism, Public Domain and Picture Books.
• More on Generating Fresh Ideas. Point of View. Make it Meta!
• Children's Developmental Stages. Writing Humor.
• High Concept Picture Books
• Webinar topic. Problems, problems, climax or big moment
WEEK 4
• Kelly and Mira show and tell about great endings.
• Turning Points, climaxes and endings. Researching your ideal editor or publisher, creating the package, and formatting the manuscript.
• The new publishing paradigm. Getting your first book published. Bonus interview with Christy Ottaviano assistant editor Amy Allen. Publishers who accept unsolicited manuscripts
• Crafting the cover letter. Creating submission records
• More than sweetness and light - multiculturalism and other considerations
• Review and Interview with the Revisionaries. Work it baby, work it! Your critique group and you. Different ways to finish your story or how it Place as more than setting
• Webinar. How does it all end or do the twist in 60 words or less.
WEEK 5
• Kelly and Mira show and tell about the art of pitching.
• The 5 Ps of Publication. Interview with Chronicle Books editor Ariel Richardson.
• Updated how contracts work. Tips for responding to the "yes we are interested in you" email or call.
• The pros and cons of working with agents. Agent and book seller interviews. Book Treats.
• More about working with Editors. Interviews with Editors. Voice and Internal Logic.
• Building or improving your author social media platform and marketing your book. Interview with an awesome author/illustrator/publisher.
• Webinar. Pitch us your story in 60 or less juicy, memorable, and intriguing words.
WEEK 6
• MINI-CONFERENCE OF WONDERFUL GUESTS

We're in the first week of the course, so, registration is now closed. But, in order to be notified when the course opens up or for special offers, notified when the course opens up again and to remain in the loop for special offerings, click this link to join our community!




PLUS!!!

Enroll now with any of the links above and purchase the fabulous instant access Let's Get Funny: Writing Humor for Kids course at HALF-OFF for the crazy low price of $162.50 and start it today! Featuring the Queen of Silly.

*** If you fully participate and do the work, and at the end of a year you don't feel that you learned a lot, we'll give you your money back! ***

BUT WAIT THERE'S EVEN MORE!!!

We've Got Even More Bonus Material!
Learn From Amy Fitzgerald, Senior Editor at Lerner Publishing Group in this FABULOUS EXCLUSIVE EXTRA SPECIAL BONUS that that will help add even more value to your writing no matter what kind of writing you are doing. Even if your story is serious, just about any kind of writing can use some light humor.
As the newly invented saying goes - with picture books - a little levity, combined with brevity, makes for a wonderful story.
Just think. Whether you are a complete beginner or an award-winning author or illustrator, would you like to:

- Write a fresh children's picture book story from start to finish or jump in with one of our suggestions
- Polish an existing children's book for publication
- Polish an existing children's book for publication
- Radically improve your chances of publication or getting an agent
- Write a story that you can later illustrate to increase your chances for publication
- Create a targeted cover letter ready to send to your ideal editor or agent!
- Participate in weekly critiques and our super interactive private FB group
- Have lots of fun
- And have all sorts of opportunities that you wouldn't get anywhere else?
Then this course is for you!!
Join former students who have now received over 240 contract offers and others who have signed with their dream agents. Here's a wee video from former student AND NOW MULTI-MULTI AWARD-WINNER Yuyi Morales.

More Bang for your Buck! Just what will you get for your money?


When you sign up for THE CRAFT AND BUSINESS OF WRITING CHILDREN'S PICTURE BOOKS....
▪ You will get a truly powerful education in how to write and submit a children's picture book story and learn proven track-record picture book writing skills that build confidence in your writing and open new doors.
▪ You will learn which publishers and agents to submit intriguing queries or manuscripts to and how to write them.
▪ You will be able to pitch to a group of editors and agents looking for picture books.
▪ You will learn business skills that will help you advance your career.
▪ You will have fun stretching and growing as a writer - as well as a person!
▪ You will discover and cultivate your author's voice while developing your characters' voices.
▪ You can work with your own ideas or, if you don't know where to start, select from a series of inspirational prompts to get going.
▪ Understanding of how the illustration process works
▪ Understanding of how the business works and how to maximize your chances for publication
▪ You will discover how to find that "perfect for you" publisher or agent and how to submit to them
▪ You can get critiques and give critiques with other like minds in your own small, optional critique group.
▪ You will get cutting edge news and also support in our interactive - and very active - private whole-class Facebook group, where you will be able to ask questions and receive answers daily (this group, sans instructors, will continue indefinitely).
▪ You will have access to our live weekly topic-specific conference calls/workshop/webinars where you can get specific help with everything from YOUR pitches, plots, titles, and endings, and ask any questions you like (these interactive videos will also be recorded)
▪ You will enjoy MANY lessons, and learn everything you need to know for writing children's picture books.
▪ No matter your learning style, you will find the course material presented in a way that suits you - including videos, written articles, and handy worksheets, done-for-you templates, and handouts.
▪ You will get exclusive insider interviews with industry experts!
▪ You will also receive a beautiful CBA badge for your website
▪ You will revel in a like-minded community of children's book creatives who will help you make yourself more attractive to publishers with a growing social media presence.
▪ You will receive a keep-forever e-book of course content PLUS The Little Big Book of Children's Book Writing Techniques and Terminology!!!
▪ You will revel in The Exclusive Barbara Bottner Big Bonanza Bonus series of topic specific interviews PLUS the many other bonuses that will help prepare you to succeed
▪ You will receive entry into our exclusive skip the line Golden Ticket contest where editors and agents are actively looking for talent knowing that you've been well-trained.
▪ You also have the rare opportunity to choose a one-hour, one-on-one critique with your choice of the co-teachers at an extraordinarily low price!

Still a little unsure? Here are some more testimonials from amazing students who have taken this transformative journey before you, both of whom are now multi-published!

Marcie Colleen is now multi, multi published with a rocketing kidlit career!

Jenny Kouts is also multi published and doing great in Greece! Yay Jenny!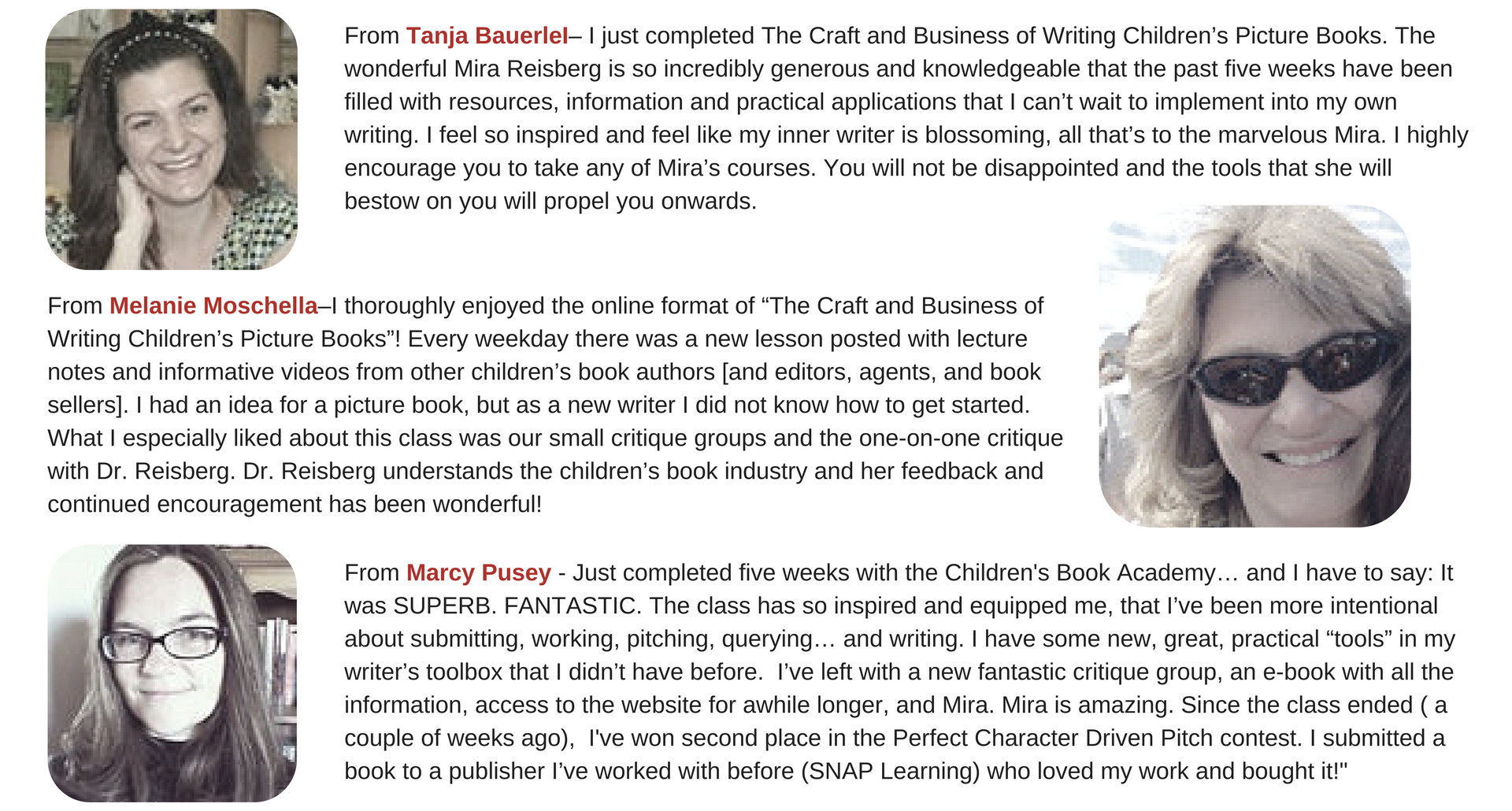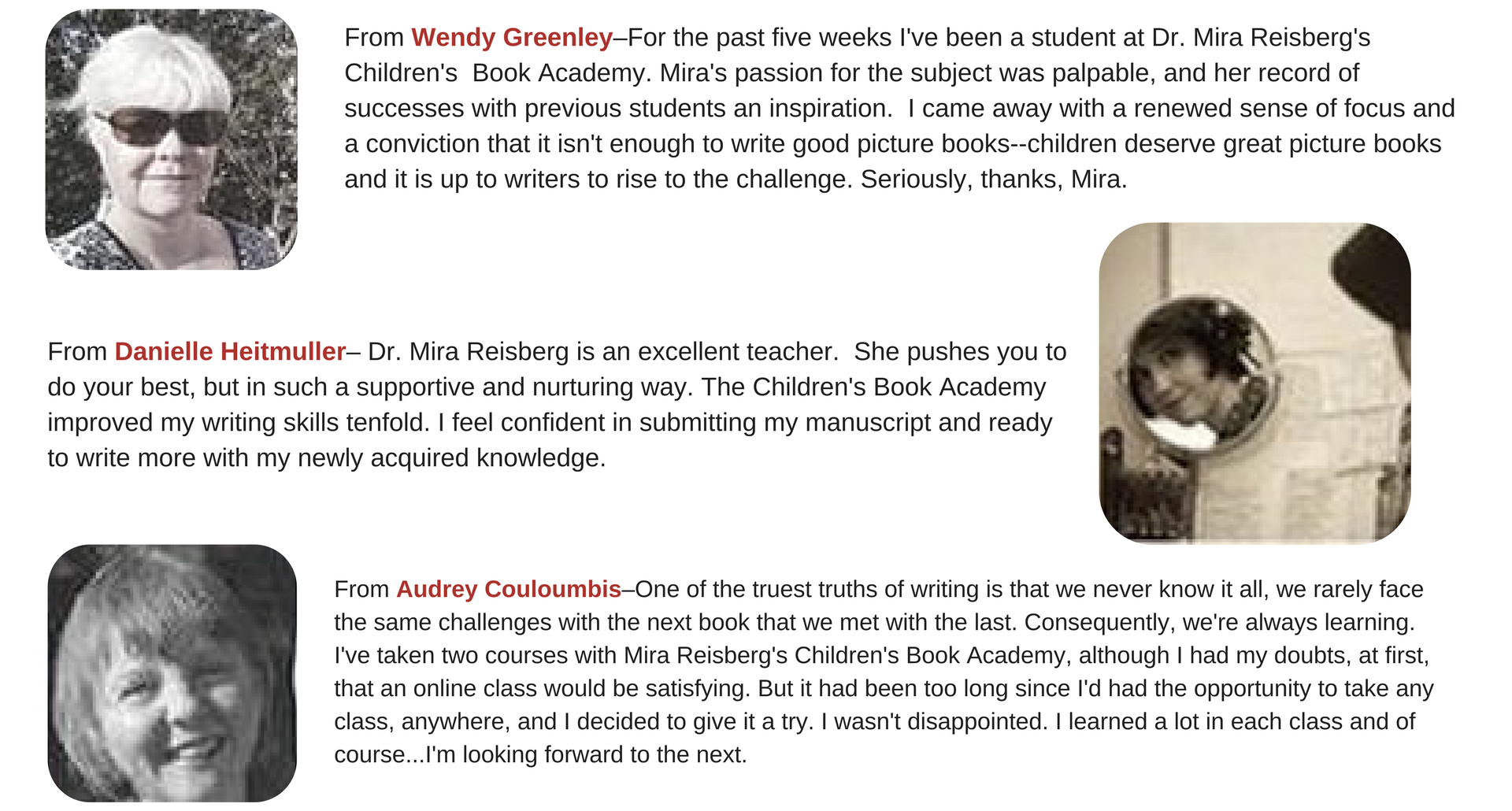 And how about this for our awesome guest contributors? Some of the best of the best in the business - some of whom are also my beloved friends - are ready and waiting to share incredibly helpful information to guide you:

In a recent course, someone mentioned that our programs are the equivalent of 20 conferences and in some ways they are. We have 27 experts (including the co-instructors) bringing a wealth of expertise and in-depth knowledge You might notice that we end with 2 social media experts because we do everything in our power to help our students succeed in the contemporary publishing landscape where having a social media presence is becoming more and more important.
Is this going to be the year for you?
Our guest contributors will speak to you in custom created videos and written interviews sharing their perspectives on everything from writing tips and secrets on how they structure their books, researching and writing non-fiction, writing biographies, crafting perfect rhymes, creating luscious language, working with plot, getting rejected and keeping on going, what they look for in buying books, what they look for in submissions, creating an authors platform to make you more attractive to publishers and so much more.
Children's Book Academy Results
• Getting a truly powerful education in how to write and submit a children's picture book story

• Lifetime knowledge of how to write that story and cover letter
• Understanding of how the illustration process works
• Discovering how to find that "perfect for you" publisher or agent and how to submit to them
• And much more
Many of Mira's students have received contract offers (240 books and counting), re-energized their careers, and/or landed agents. Former students have won just about every North American award including the Caldecott honor, Jane Addams, and Pura Belpre, among others, and agents are responding super favorably to graduates' work. As you'll see, we work incredibly hard for you and all we ask is that if you get published, you send us an autographed copy of your book or if it becomes a movie, we get to join you in a premiere somewhere :)
Click on one of the three buttons below to get started today!

---

---

---

---
Here's a tiny sneak peek from a much larger video interview with Marsha Diane Arnold where she shares words of wisdom for beginning writers. In the full interview Marsha shares about her writing process, how she embeds or unearths deeper meanings in her stories, and how she crafts character-driven stories. She's pretty fabulous as are our other gifted contributors.
Class Curriculum
Week 1 Lesson 1 Welcome and Overview
Available in days
days after you enroll
Week 1 Lesson 1 Monday
Available in days
days after you enroll
Week 1 Lesson 2 Tuesday
Available in days
days after you enroll
Frequently Asked Questions
What kinds of formats will there be?
Most of our courses are a combination of lessons, worksheets, and interviews with experts. Sometimes these are in video format, other times not. With interactive courses, there is also a very active Facebook community page and weekly critiquing webinars, making it very lively and lots of fun. It is a multi-modal approach that works well for different people learning styles.
Who will benefit from this class?
Anyone who has a passion or interest in writing or illustrating books for children.
When does the class start?
If this is an instant access course, access starts today for a full year. If it is an interactive course, the dates will be towards the top of the page with 6 months of additional access, which often ends up being much more. Interactive courses also often include an e-book of course materials.
Are there any specific time requirements?
No. The only time sensitive areas are if you are in an interactive course and want to submit your work for a live webinar critique, there is a specific deadline, and if you join one of the optional critique groups you need to honor your group's critiquing timeline. The weekly webinars also happen at a specific day and time provided in advance, but if you can't make it live, they are also recorded for later viewing.
Do you offer refunds?
We are so sorry, but there are no refunds. Because we give bonus passwords or access to the course at the time of purchase, it is impossible to offer refunds. We appreciate your understanding. However, we do offer a 100% learning money back guarantee for interactive courses, that if you read the lessons, participate and do the work, and at the end of a year, don't feel that you learned a lot, we will refund your money in full.
What do I do if I have further questions?
You can email Mira directly at mira@childrensbookacademy.com with the title of the course in the subject head.